PERFORMED ERUPTION GUIDANCE APPLIANCES
Occlus-o-Guide is a preformed appliance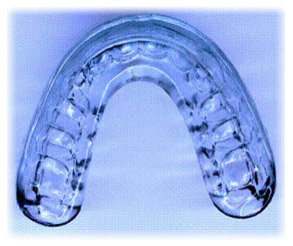 designed to prevent the development of malocclusions by guiding the eruption of the canines and bicuspids into a perfect relationship, while straightening the anterior teeth. A vertical anterior overbite is the most difficult orthodontic problem to correct once all the permanent teeth have erupted and the periodontal ligament fibers have become established. The Occlus-o-Guide has been uniquely designed to put depressive forces on the anterior teeth while encouraging the posterior teeth to erupt to their optimum vertical position so that a minimal anterior vertical overbite is permanently established. This is done at a time when the posterior teeth are normally erupting and before the periodontal fibers establish the ultimate vertical level of these teeth.



STRAIGHTEN TEETH WHILE SLEEPING FOR THE 5 TO 8 YEAR OLD CHILD
The Nite-Guide® is worn by 5 to 8 year old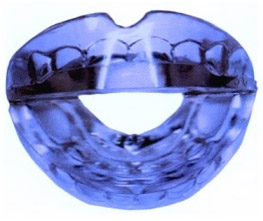 children only passively at night to correct overbite, overjet, crowding and some open-bites*. Nite-Guide® is a preformed, self opening appliance, designed for the baby dentition to allow erupting upper and lower adult front teeth to be guided in straight. The appliance then holds these teeth straight while fibers develop around them to hold the correction. The Nite-Guide® also increases the size of the jaws in the area of the front teeth to help correct crowding. The Nite-Guide® is available in 11 sizes.