We, The Dr Yanevs family, have been working together as a professional and personal team. Graduates from the Stomatological faculty in VMI Plovdiv, we successfully combine, with the help of lot of hard work, our marriage and family life with our professional careers.

Continuous labour and love for the profession makes us climb impetuously the ladder of our professional improvement. Thanks to gained experience and a lot of knowledge trough the years, using safe and modern techniques, we try to offer only high-quality services to our clients.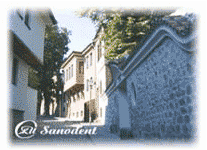 Our web site www.sanodent-bg.com will introduce you to the most frequently executed interventions and manipulations in our practice. Please, contact us for personal advice about anything you wish to know.

14 "Belgrad" str. ; Plovdiv, BULGARIA tel. +359 886747085
office@sanodent-bg.com