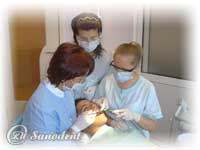 We work with methods of sedation - for patients who do not want to participate in the action, in order to decrease subjective sensations for the patient.

We work painlessly with the help of a local anaesthesia, using the most modern systems.

We work with punctually appointed hours, without useless crowding patients into the waiting room. We take care for the calmness and security of our patients.

We work in no hurry within the framework of the technological time.

We widely use instruments and materials for one-time use, which the stomatoloical industry places at our disposal. This is a guaranteed protection from secondary infections!

In our practice reins a calm and tranquil atmosphere, without tension. We efficiently make harmonious environment during the patient.s stay in the waiting room and in the surgeries. The whole team works together in the name of the patient. This is the main requirement for the good and efficient team practice.

We are grateful to our patients for the questions, opinions and remarks, because we all wish to work for their good.

Every member of the team is responsible for the success of The Practice.



14 Belgrad Str., Plovdiv, BULGARIA, tel. +359 886747085
office@sanodent-bg.com